THE SECRET OF SUCCESSFUL REMOTE MANAGEMENT LIES IN SYNERGY
ENGLISH VERSION BELOW / LA VERSIONE IN INGLESE IN SEGUITO
Una riflessione sui cambiamenti nella gestione a distanza con l'esempio di un progetto di scultura architettonica realizzata per Bottega Veneta in Cina, a Shanghai
A reflection on the changes in remote management with the example of an architectural sculpture project created for Bottega Veneta in Shanghai, China.
di Olga Bocharova
Per sopravvivere alle turbolenze del 2020 il business ha dovuto reagire in fretta adattando i metodi di gestione sperimentali o poco convenzionali al fine di minimizzare l'impatto negativo dell'inatteso cambiamento dell'ordine mondiale precedente. La marcia trionfante della globalizzazione si è orientata ancora di più verso il mondo digitale, unico veicolo di connessioni in un mondo paralizzato, concretizzando quindi ulteriormente la morfologia sociale sviluppata intorno alle reti di informazione elaborate elettronicamente.
Anche la gestione a distanza ha subito un cambiamento sostanziale: resa obbligatoria dall'impossibilità della presenza fisica, oltre a richiedere una connessione facile e immediata, ha visto un aumento di responsabilità di ogni membro del team, nonché imprescindibile componente di autoregolazione. Cionondimeno, la digitalizzazione ha esaltato l'aspetto relazionale e sinergico: l'importanza dell'individuo e della collaborazione tra le persone che sembrava svalutarsi nell'era dell'intelligenza artificiale, si è rivelata vitale.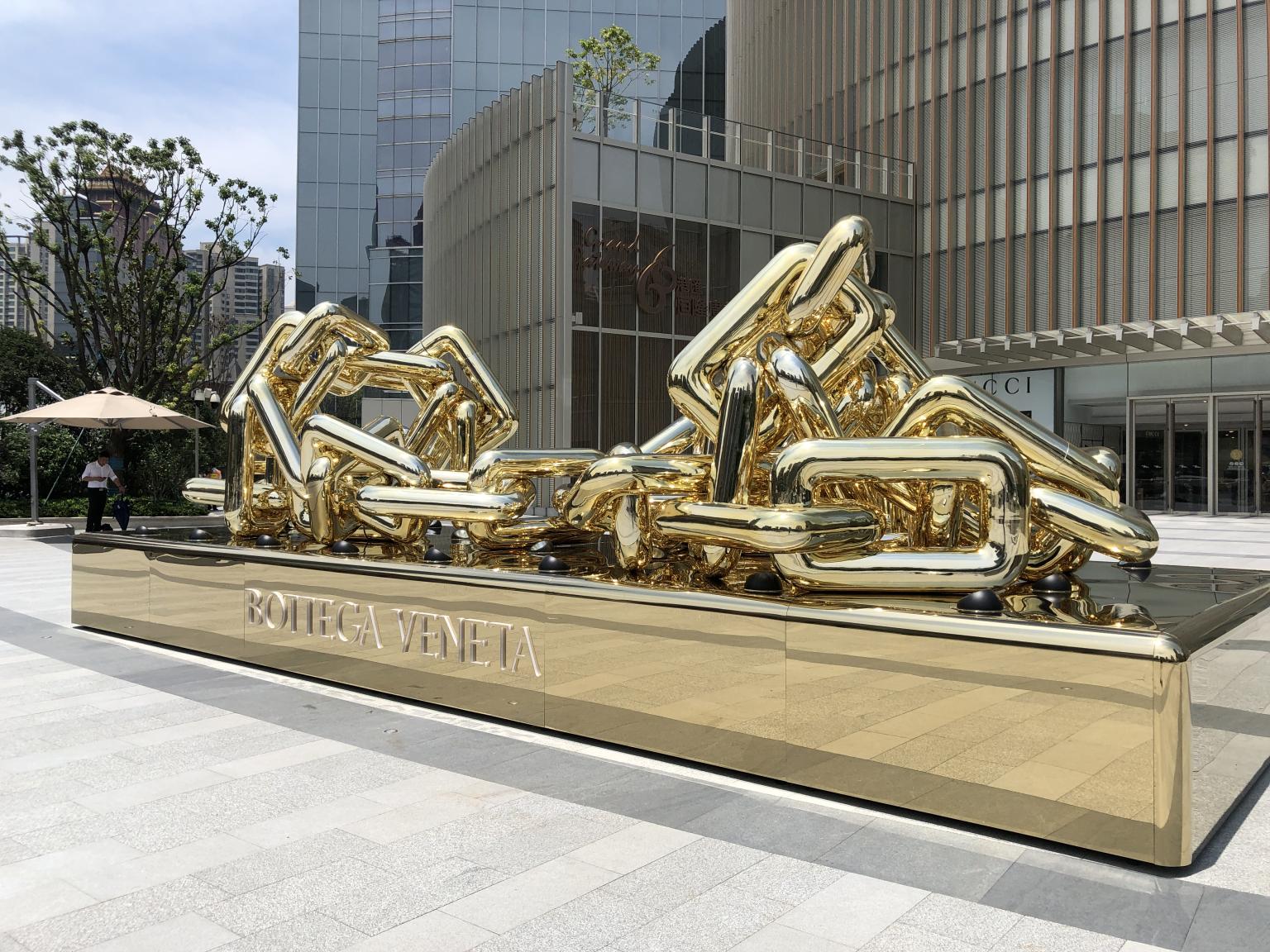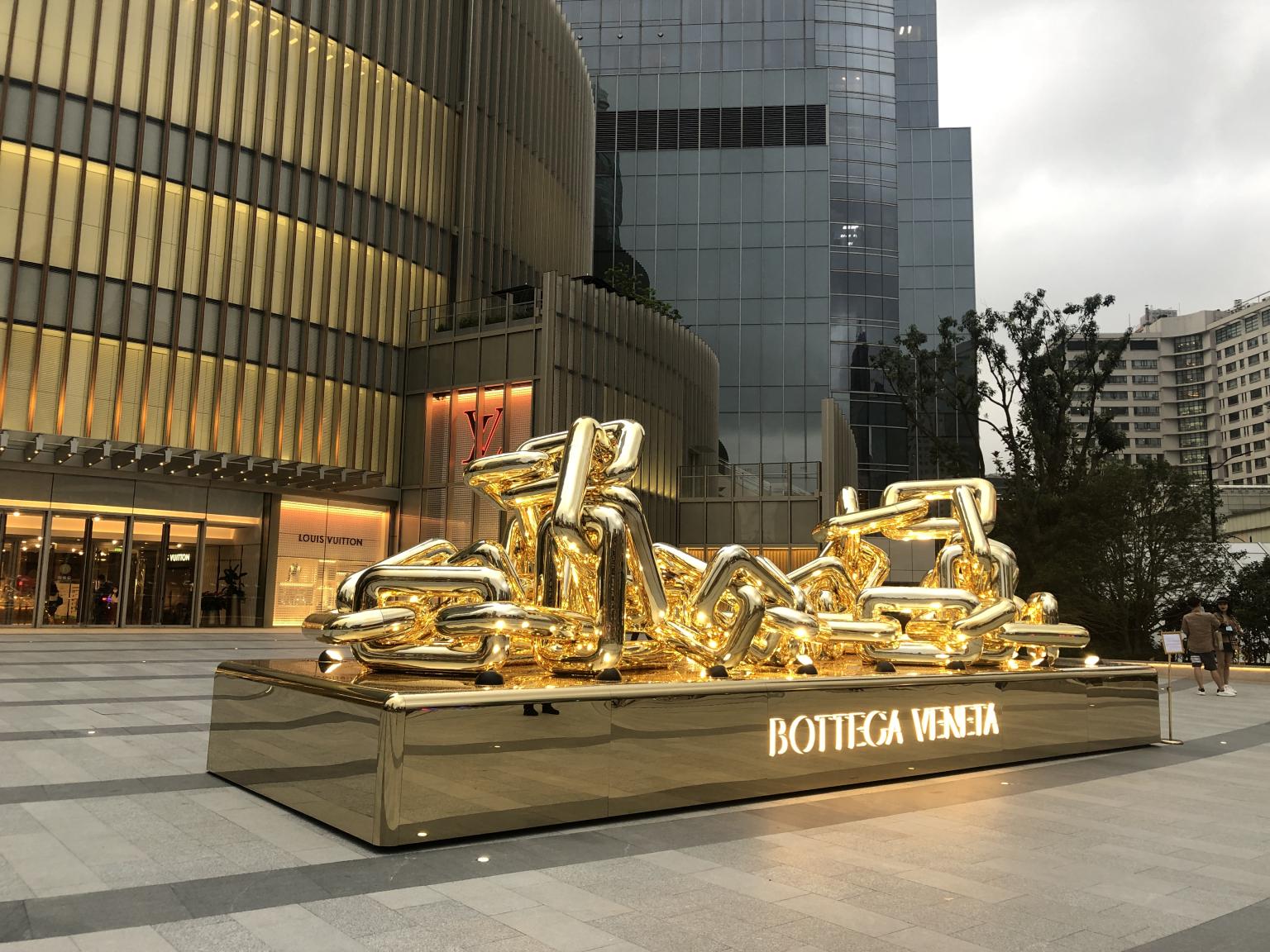 Un esempio di efficace gestione a distanza potrà essere il progetto realizzato da New Crazy Colors per Bottega Veneta a Shanghai. Una costruzione a forma di catena posizionata su una pedana è stata implementata in soli tre settimane, comprese l'ingegnerizzazione del concept fornito dal cliente, la realizzazione di uno stampo prototipale, produzione e installazione. Il Pop up, commissionato alla sede italiana e gestito da essa, prodotto invece presso la sede di Shanghai, ha richiesto innanzitutto una flessibilità maggiore da parte di tutta l'equipe che si è trovata a operare in due fusi orari differenti a migliaia di chilometri di distanza. Il fattore umano e la causa comune hanno avuto un ruolo chiave nella riuscita del progetto: proprio grazie alle sinergie create, all'impegno fenomenale e alla professionalità della squadra è stato possibile rispettare le tempistiche. A tal proposito, sono stati preferiti mezzi di comunicazione istantanei, come WeChat, comunemente utilizzato in Cina.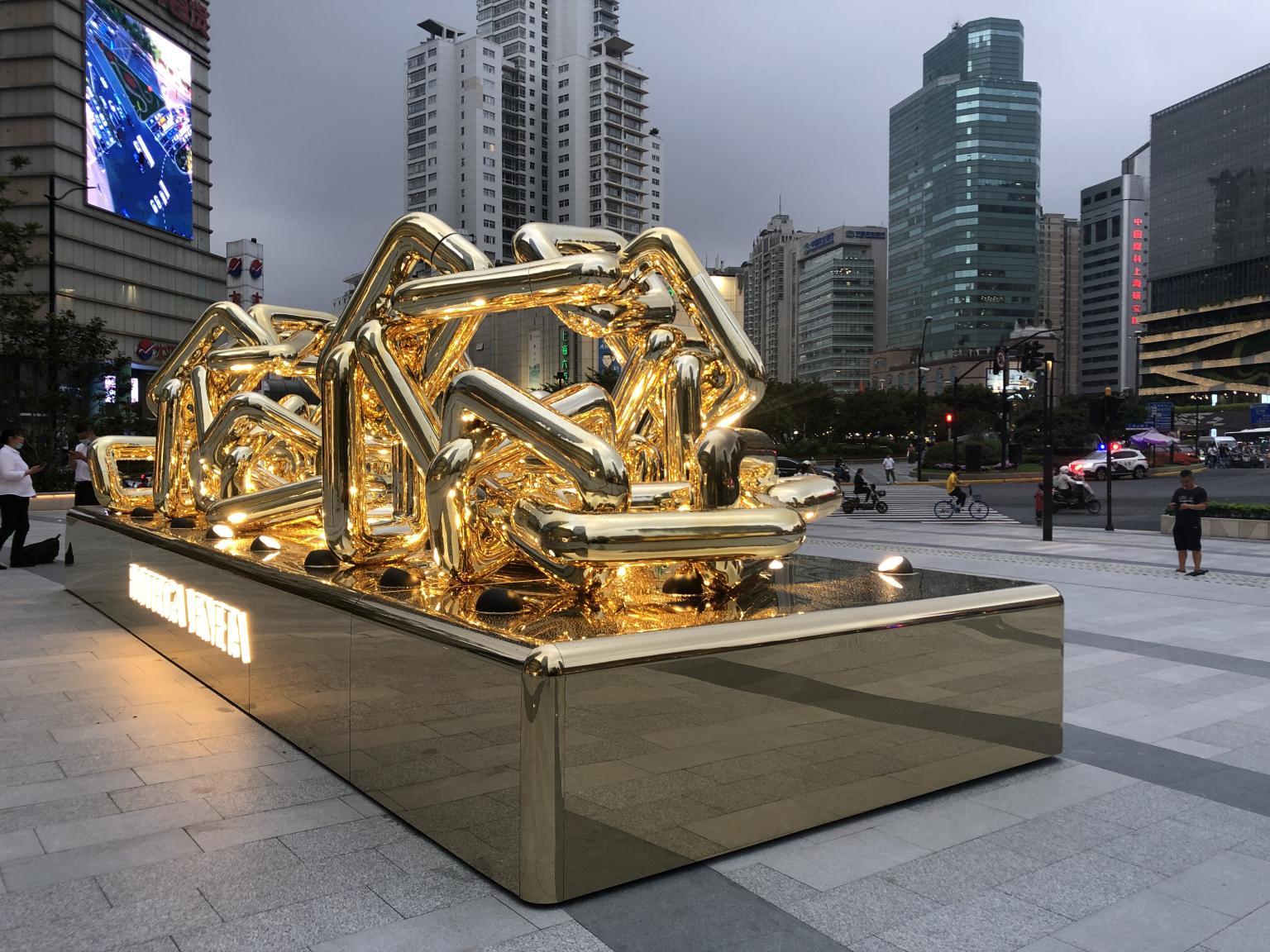 Il Pop up propone un'interpretazione architettonica della catena iconica di Bottega Veneta, con le finiture color oro abbinate al metallo della stessa sfumatura cromatica, per consolidare un effetto di percezione omogeneo. Le luci, posizionate sulla pedana, contribuiscono a creare uno scenario spettacolare anche nelle ore notturne, rendendo l'installazione un'attrattiva per la città e una straordinaria vetrina per il brand.
In order to survive the turmoil of 2020, the business had to react quickly by adapting experimental or uncommon management methods in order to minimize the negative impact of the unexpected change in the previous world order. The triumphant march of globalization has turned even more towards the digital sphere, the only vehicle of connections in a paralyzed world, thus further concretizing the social morphology developed around electronically processed information networks.
Remote management has also undergone a substantial change: made mandatory by the impossibility of physical presence, in addition to requiring an easy and immediate connection, it has seen an increase in the responsibility of each team member, as well as an essential self-regulation component. Nonetheless, digitization has enhanced the relational and synergistic aspect: the importance of the individual and of the collaboration between people that seemed to devalue in the era of artificial intelligence, proved to be vital.
An example of effective remote management can be the project created by New Crazy Colors for Bottega Veneta in Shanghai. A chain-shaped construction positioned on a platform was implemented in just three weeks, including the engineering of the concept provided by the client, the creation of a prototype mold, production and installation. The Pop up, commissioned to the Italian office and managed by it, produced instead at the Shanghai company branch, first of all required greater flexibility on the part of the entire team which found itself operating in two different time zones thousands of kilometers away. The human factor and the common cause played a key role in the success of the project: thanks to the synergies created, the phenomenal commitment and professionalism of the team, it was possible to meet the deadlines. In this regard, instant communication media, such as WeChat, commonly used in China, were preferred.
The Pop up offers an architectural interpretation of Bottega Veneta's iconic chain, with gold-colored finishes combined with metal of the same color shade, to consolidate a homogeneous perception effect. The lights, positioned on the platform, help create a spectacular scenery even at night, making the installation an attraction for the city and an extraordinary showcase for the brand.